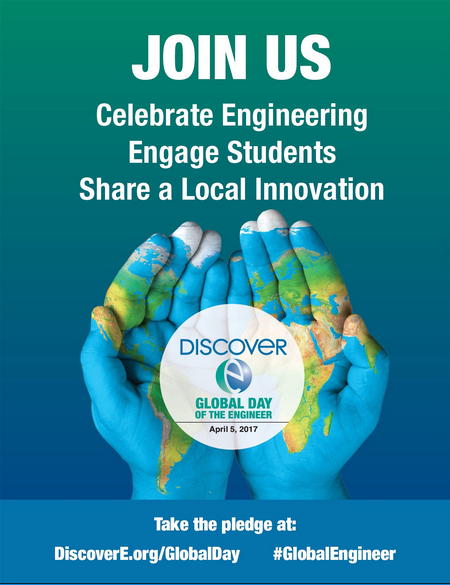 National Engineering Month (NEM) may have recently come to a close, but it is safe to say that our celebration of the engineering profession never really ends. In fact, today, Wednesday, April 5th, celebrations of engineering go global. DiscoverE's Global Day of the Engineer brings the international community together to raise awareness about and celebrate the accomplishments of engineers.
Global Day of the Engineer asks you to consider what you can do to grow the next generation of innovators, from engaging students in engineering activities to sharing examples of engineering innovations. Anyone is welcome to join in the conversation on social media by using the hashtag #GlobalEngineer to share photos of amazing feats of engineering, whether it is a project you are working on or one you've always admired.
Similar to OSPE's 2016 public awareness campaign, the objective of Global Day of the Engineer is to remind the public and future generations about the critical role engineers play in shaping and protecting our world. Together, we've used the hashtag #AnEngineerWasHere to build a growing collection of photos showcasing the diverse fields in which engineers work. Today, let's take our celebration of Ontario engineers one step further and share these same examples of Ontario engineering innovation with the world using #GlobalEngineer.
As OSPE highlighted during our "Engineering Leaders in Public Policy" event with McMaster University, the modern engineer is equipped with the tools to not only analyze problems and develop solutions, but to also explain those solutions to a non-technical audience. Engineers work collaboratively with others from different professional backgrounds to lead project implementation and to communicate how society will be positively impacted. No longer is an engineering graduate's career path black and white – engineers and engineering graduates are employed in diverse fields and industries.
Consequently, OSPE members are using their expertise to make a difference in countless ways every day, and as the voice of Ontario's engineers, it is our privilege to share your stories and amplify your voice. Through OSPE's Political Action Network (PAN), advocacy task forces, research reports, open letters, blogs, Queen's Park lobby days, and advocacy meetings with Members and Ministers, we help advance the interests of engineers and all Ontarians.
In honour of Global Day of the Engineer, let's hear how several of our valued members feel engineers are driving change in their respective fields:
David Carnegie, P.Eng.
[ichcpt id="3524″]
Lilly Chen, M.Sc., P.Eng.
[ichcpt id="3544″]
Omar Choudry, M.Eng., P.Eng.
[ichcpt id="3520″]
Karen Chan, P.Eng.
[ichcpt id="3563″]
Renan Orquiza, P.Eng.
[ichcpt id="3530″]
_______________________________
Regardless of your specific job role or field of study, we can each do our part to create positive change by elevating and advancing the engineering profession. Sometimes making a difference can start with something as simple as a photo and a conversation, so take a minute today to join the worldwide celebration of Global Day of the Engineer. Let's make a statement about the importance of engineering. After all, they say a picture is worth a thousand words!
Happy #GlobalEngineer Day!