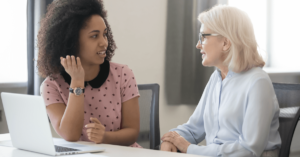 Many engineers credit one or more mentors for helping them achieve their goals and finding success throughout their engineering journey. At OSPE, you can develop meaningful connections as a mentor or a mentee.
Mentoring is about more than teaching or tutoring. It's about empowerment and learning from each other. In fact, mentoring is a fantastic way for all parties involved to grow professionally, while actively contributing to the development of the engineering profession.
Here at OSPE, we do mentorship a little differently. Unlike traditional mentoring relationships that develop over time, we've created a "Drop-In Mentoring" system to accelerate the process. Our Mentorship Program features talented, diverse, and accomplished professionals with experience in the engineering industry. Mentees can book a 30-minute session with as many mentors as they'd like. Through this structure, mentees receive a wide range of support from many skilled professionals!
This new system guarantees that mentees will always have an experienced mentor to look towards for guidance, without the waiting time. New mentors will also be introduced every few months, so that mentees can meet and receive even more support from various professionals. Booking repeated sessions with a specific mentor will be based on their availability to ensure that all mentees have an opportunity to meet with each mentor.
How to get involved as a mentor
As mentioned above, OSPE will be rotating the mentors every few months so, we are always on the lookout for talented professionals! If you are interested in becoming an OSPE mentor, please send your resume and application form to ambassador@ospe.on.ca. OSPE staff will be in touch shortly with next steps.
How to get involved as a mentee
If you're an OSPE member, just log into your OSPE member profile and visit the OSPE Mentorship Program page to schedule appointments with our mentors!
If you're not an OSPE member, first become one by clicking here.
Please read through the OSPE Mentee Guidelines before meeting with your mentors to ensure that you are being professional and are getting the most out of this experience.
If you have any questions, please email ambassador@ospe.on.ca.