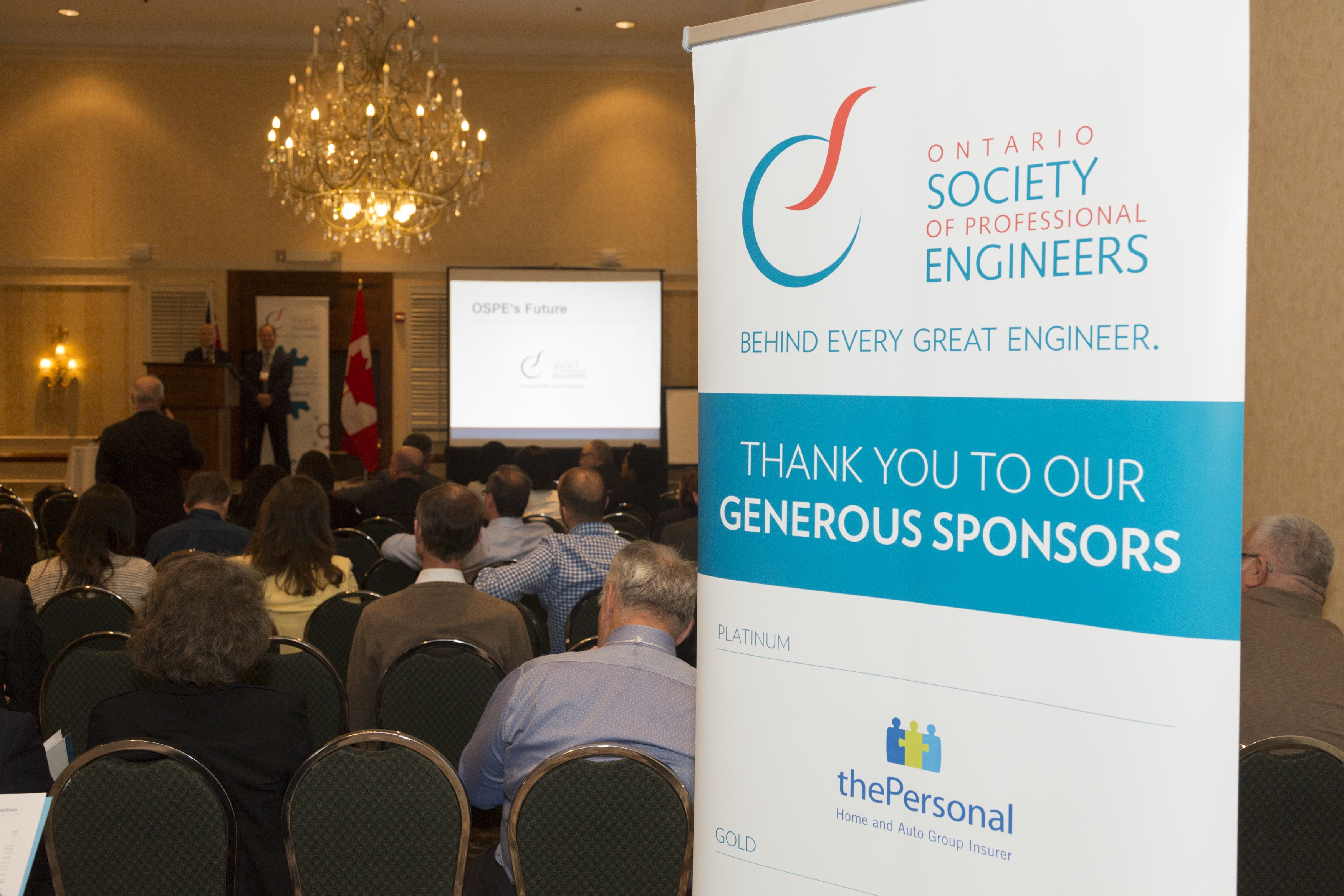 If you missed OSPE's General Assembly (GA) and Annual General Meeting (AGM) on May 4, 2017, below are some highlights to bring you up to speed. On several topics, the floor was open to members to provide feedback on the Society's progress. If you weren't able to attend in person and have questions or suggestions, we encourage you to share them in the comments section below. As always, OSPE will be taking all member feedback into consideration as plans for the Society's programs and activities move forward in 2017 and beyond.
General Assembly
Open Forum – OSPE Strategic Plan: How do we expand our reach?
—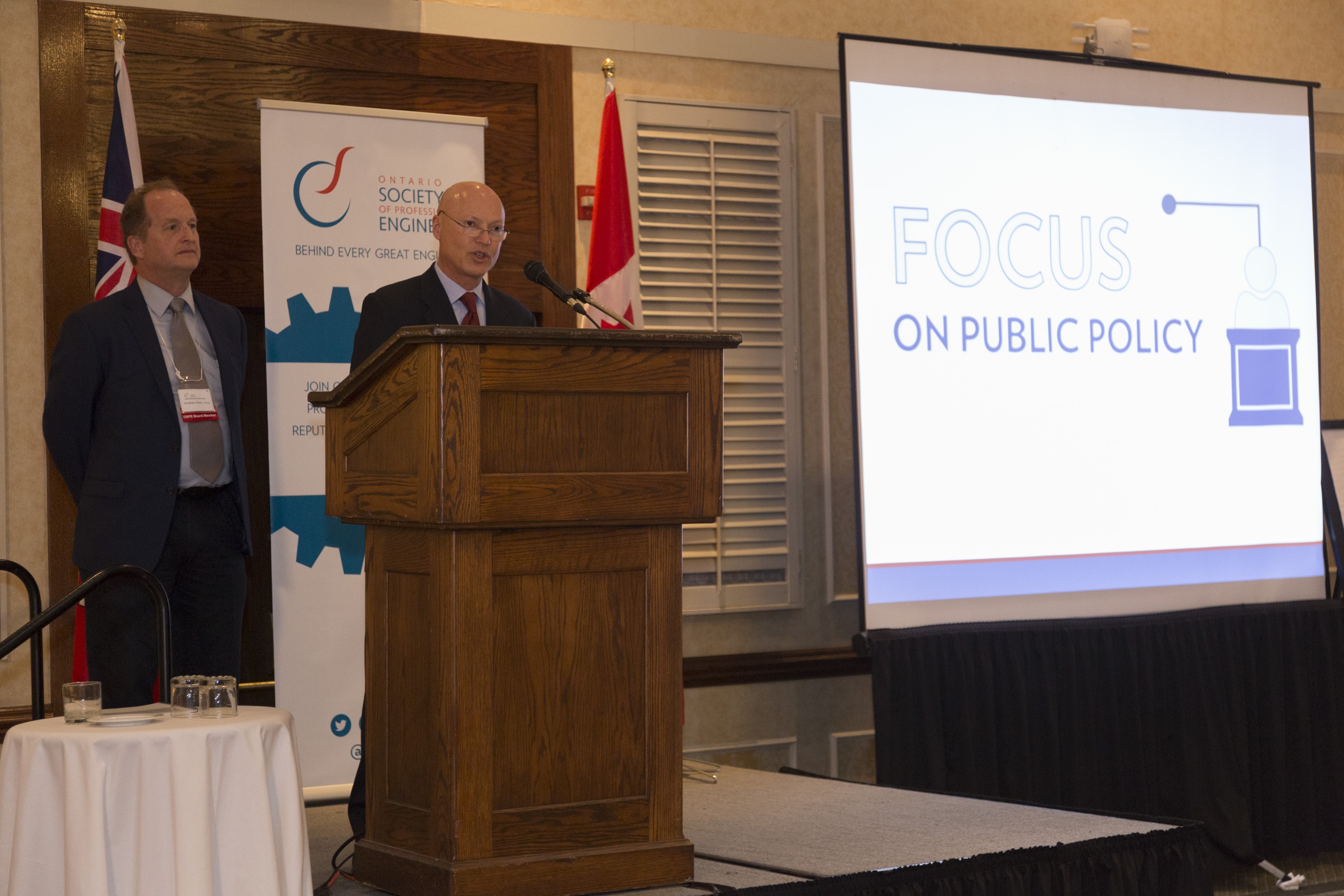 Outgoing OSPE President and Chair Michael Monette, P.Eng., and incoming OSPE President and Chair Jonathan Hack, P.Eng., presented a report on the progress OSPE has made in achieving the goals set out in its five-year Strategic Plan. For specific details on progress, please review OSPE's Annual Report.
Monette and Hack also facilitated a discussion about the strategic direction of the organization, asking members the following questions:
What made you originally become an OSPE member, and what drives you to continue re-newing your membership?
What should be added or amended in OSPE's Strategic Plan?
Why do you think engineers who are not OSPE members fail to see the value in joining their advocacy association?
What can OSPE do to better represent you and promote and protect your interests as an engineer?
What are your thoughts on OSPE's focus on helping engineering graduates and newcomers to Canada?
What programs, topics or partnerships do you think OSPE should create, focus on or seek out?
Some of the comments and suggestions from members included:
– OSPE needs a greater membership for a greater profile. With greater membership, OSPE will have more resources for government reports, but also public policy ads. Social media initiatives are fine, but we need a mainstream commercial about engineering and its contribution to public life.
– Joining OSPE is not on everyone's radar – they don't see the value. Other professional advocacy groups see themselves as leaders, but engineers are focused on getting good jobs. They don't see themselves as leaders in society. OSPE should have workshops on leadership skills and public speaking, as well as clear routes to leadership. [Check out our Leadership & Management Program here]
– OSPE should be highlighting engineering and Canada 150, and the contributions engineers have made in the past and present. OSPE should try to get involved with the re-opening of Ontario place. It's good to be involved with large public entities and to have a physical presence where the people are. [Check out OSPE's '150 Ways Engineering Has Shaped Canada' list and other Canada 150 events and stories here: ospe.on.ca/Canada150]
– OSPE has been a great ally of the Engineering Students Societies Council of Ontario (ESSCO), not only providing financial support, but added value through services like a space to hold meetings, assistance with continuity year over year, etc. I think OSPE can assist other organizations and groups in this way, providing collaboration and partnership, and contributions of time and effort more so than financial support.
– It's important to celebrate individual engineers, and we do this through the Ontario Professional Engineers Awards. But engineers also work in teams, so we've added the Project of the Year award to recognize that. I encourage everyone to submit packages to the nominations committee to recognize engineers.
– It's important to remember that OSPE is only 16 years old. The organization is becoming an adult, starting to mature. OSPE is doing great things and will continue to over the coming years. Eager engineering students want to change the world – we need to show them what OSPE is doing through policy work and how they can contribute. I think OSPE should seek out more engineers and volunteers for events and get more engagement.
– OSPE should advocate for a study on the feasibility of a new northern rail line to transport oil etc.
– I joined OSPE because I was invited by someone who was already a member. We all need to ask fellow engineers and take on spreading the word ourselves as a mission. We have about 8,000 professional members – if we all ask 9 people to join we'd be in a much better place. Personal invites stand out.
– OSPE is a source of information that we don't get elsewhere. OSPE should partner with other engineering associations like civil and mechanical to broaden our agenda and bring expertise.
– Everyone is trying to engage young people and students for membership – we need to go to the universities and show the benefits for when they graduate. But we are competing with other groups because everyone is doing that. We need to become the place to go for International Engineering Graduates. OSPE has made big progress over the years and we need to continue to expand our membership in that area.
– OSPE has a marketing problem, specifically with how it markets itself to engineers. It still says "click here for a voluntary contribution" on PEO's website. PEO members think they're automatically OSPE members. I'd like to see a goal of going to all 36 PEO chapters with OSPE's value proposition in the next Strategic Plan. I believe in OSPE because you advocate for my profession, not the engineering community.
– Bring back the Daily News email. [Please follow OSPE's blog instead, and subscribe to our other e-newsletters for updates on Society activities!]
Annual General Meeting
Motion to amend: Bylaw No. 2 – passed
—
After a presentation from Monette and Hack on the rationale behind OSPE's bylaw changes, a large majority of OSPE Professional members (87.5%) in attendance voted to pass the amendments to Bylaw No. 2, which will allow OSPE's Associate members – EITs and engineering graduates – to have full voting rights, and the right to be nominated and elected to the OSPE Board of Directors.
This means that during OSPE's next election period in January 2018, Associate members can be nominated as candidates to serve on OSPE's Board of Directors, which will continue to be composed of 12 voting Directors, where a minimum of seven directors remain as P.Eng.s, instead of all 12.
Before the AGM, the OSPE Board enacted a policy so that Board Executive positions, including President, Vice Chair, Treasurer and Secretary will remain to be held by Professional members only.
OSPE will also be creating a Transition Task Force to record all input from members to review, discuss and report back within the year on any further changes that would be brought to OSPE's next Annual General Meeting.
Below are some of the comments that were made on both sides of the issue in advance of the vote to amend Bylaw No. 2:
– Associate members pay the same fees as Professional members. Allowing them to have a voice is important. I am in favour of these bylaw changes.
– I am concerned about the unintended consequences of these bylaw changes. What if OSPE has so many Associate members joining that it dilutes the P.Eng. We might look back and regret this – once it's in place it will never be removed. I'm not sure this is the right solution at this time.
– I will be voting against these changes. While I am grateful for the active participation by Associates, we should be focusing on P.Eng.s and their increased participation in both OSPE and PEO.
– I support these changes. By the time I got my licence I was on to business – I only had four years' experience as a real engineer. This will help us transition people who don't have their licence to get it. Inclusivity is important, it will help OSPE get the resources we need.
– We're not there yet. The value to Associate members is being able to call themselves an engineering graduate. We need to think it through more.
– This motion will encourage more people to go through licensure. Having Associate members on the Board will benefit OSPE and PEO because it will increase the number of people becoming P.Eng.s, because their concerns will be heard, and we'll be able to better support them.
– I am in support of these changes. There are 250,000 engineering graduates in Ontario – that's twice the number that are outside of the profession. We should put them on special interest groups and make sure they get restricted licences through PEO. We need members and people outside of the P.Eng. to come tell us what we should be doing.
– We need to ask ourselves what is the purpose of OSPE. As an organization our purpose is to serve the engineer. We can't disclude the future of our profession. What kind of future do we want?
– I am in support of the bylaw change. Our profession has a problem with modernization – we haven't progressed because we only look inward. Only traditional practices of engineering are recognized by a P.Eng. What does engineering really mean in 2017? Imagine what the medical profession would be like if radiology was not included. With artificial intelligence, autonomous vehicles, etc. – none of that is regulated, but all of that is engineering. They should be a part of the OSPE family – they are a part of the OSPE family. The increased membership is just a benefit – we are all here to make the world a better place.
– Engineering is one of the most transferable degrees – engineering graduates are working on Bay St., in leading research hospitals, manufacturing, etc. Only 30% of them get their P.Eng. Why don't we bring them in and help make OSPE great, make it a movement, by bringing the best people in and allowing them to support us?
– I am in support. This is well thought out. It's 2017, let's have the numbers and we won't have to be embarrassed about only having 8,000 professional members.
– I am an Associate member and EIT and when I heard about this change I was overjoyed. This will allow us to have a full voice and look up to P.Eng.s for guidance.
– Can we add that officer positions can only be P.Eng.s to the bylaw change? If it's just a policy the Board could change that policy at any time. If it's not added to the bylaw I cannot vote in favour of these changes.
– In 1950, those working in the emerging "technology" field wanted to be recognized by PEO and they were shot down. So OACETT was created. In 1999 we voted to create OSPE. Let's take a chance and do a good thing. I support the motion.
What do you think about these bylaw changes passing? What else can OSPE do to make the organization more inclusive to support future engineers? Leave your comments below.
To access photos from OSPE's 2017 GA and AGM, click here.
For a complete summary of OSPE's GA and AGM, including more information on the newly elected Board Directors, award winners, and panel discussions at the General Assembly, be sure to read the June issue of The Voice magazine.