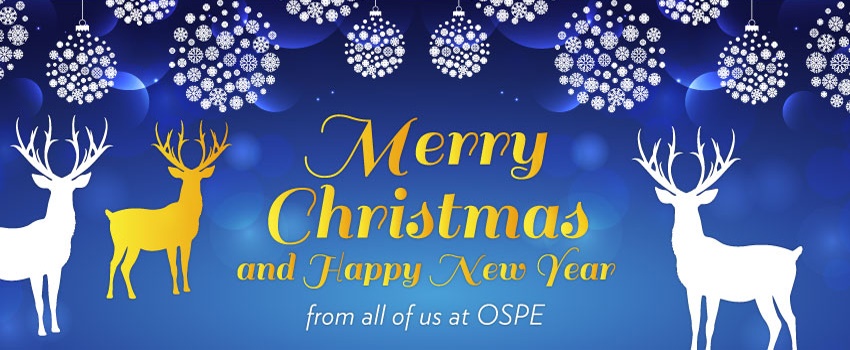 The snow has arrived as if on cue and that can only mean one thing—it is officially the holiday season. Regardless of how you celebrate this time of year, we at OSPE extend our warmest wishes to you and your loved ones. We'd like to thank each one of our dedicated members for sharing your ideas and unwavering support over the past year.
In 2016, our activities and initiatives proved to open many new doors for OSPE. Equally as important, the expertise, guidance and active participation of our board of directors and diverse membership base also proved that OSPE knows how to make an impact once these doors are opened.
What are some of OSPE's shining moments from 2016?
Advocacy and outreach
OSPE enjoyed its busiest year on the government relations front, demonstrating the Society's growing reputation as a trusted, respected and reliable source.
With your help, OSPE:
Fostered new partnerships with organizations as diverse as the Brookfield Institute, Siemens Canada, General Electric and Metrolinx
Ran our first public awareness campaign, which launched the widely used #AnEngineerWasHere hashtag to remind Ontarians that engineers make our world 'work'
Leveraged each of our meetings with government and industry to get exclusive invites to events like the 2016 Mining and Innovation Summit
Brought a new focus to the areas of coding, electricity pricing, cap-and-trade and the labour market through our advocacy initiatives and outreach
Established stronger ties with Ontario universities and the Engineering Student Societies' Council of Ontario (ESSCO)
Visited the Ministry of Energy for a productive policy meeting
Released a new report on excess soil management, which shares key findings and recommendations for reducing unnecessary project costs and greenhouse gas (GHG) emissions
Member services
OSPE delivered an exciting new lineup of events and services, each designed to increase the value of an OSPE membership.
OSPE:
… And this list is only a snapshot! The momentum built throughout the year leaves us nothing but optimistic about where OSPE is headed in 2017.
In lieu of the holidays, please note that the OSPE office will be closed from December 26 – December 30, 2016. We will resume regular hours of operation on January 2, 2017.
On a similar note, OSPE will not be posting on the blog over the next two weeks, but we are eager to share new content in January that highlights some of the incredible individuals and projects from across the profession that have helped shape Canada over the past 150 years. Stay tuned!
Once again, all of us at OSPE wish you a very Merry Christmas, a relaxing holiday season and all the best in the coming New Year. We look forward to continuing to work together to raise awareness about the vital role that the engineers play in our province and beyond.