Soil as a resource, not a waste

From roadwork construction in rural areas to the development of high rise condominiums and the upgrading of buried utilities in cities, today, most Ontarians do not have to look far to find examples of major infrastructure projects taking place in their communities. What may be less apparent to the general public with regards to these projects is the enormous amount of excavated soil that is disposed of as waste, rather than re-used as a valuable resource.
The Ontario Society of Professional Engineers (OSPE), the Greater Toronto Sewer and Watermain Construction Association (GTSWCA) and the Residential and Civil Construction Alliance of Ontario (RCCAO) have partnered to prepare a study on excess soil to ensure sustainable excess soil management practices are considered through the design and construction of Ontario's infrastructure projects.
The newly released report, Excess Soil Management: Ontario is Wasting a Precious Resource, uses the results from a survey of 24 Ontario infrastructure projects regarding their soil management practices. The results conclude that the disposal of excess construction soil contributes hundreds of tonnes of greenhouse gas (GHG) emissions from transport vehicles by travelling hundreds of thousands of kilometres to dispose of soil. We can also infer from these measurements that transporting excess soil contributes to the wear and tear of roads and increases traffic congestion –  both of which increase project costs, primarily to municipalities, ultimately burdening taxpayers.
Check out the infographic below for a number of report highlights that demonstrate the importance of excess soil management: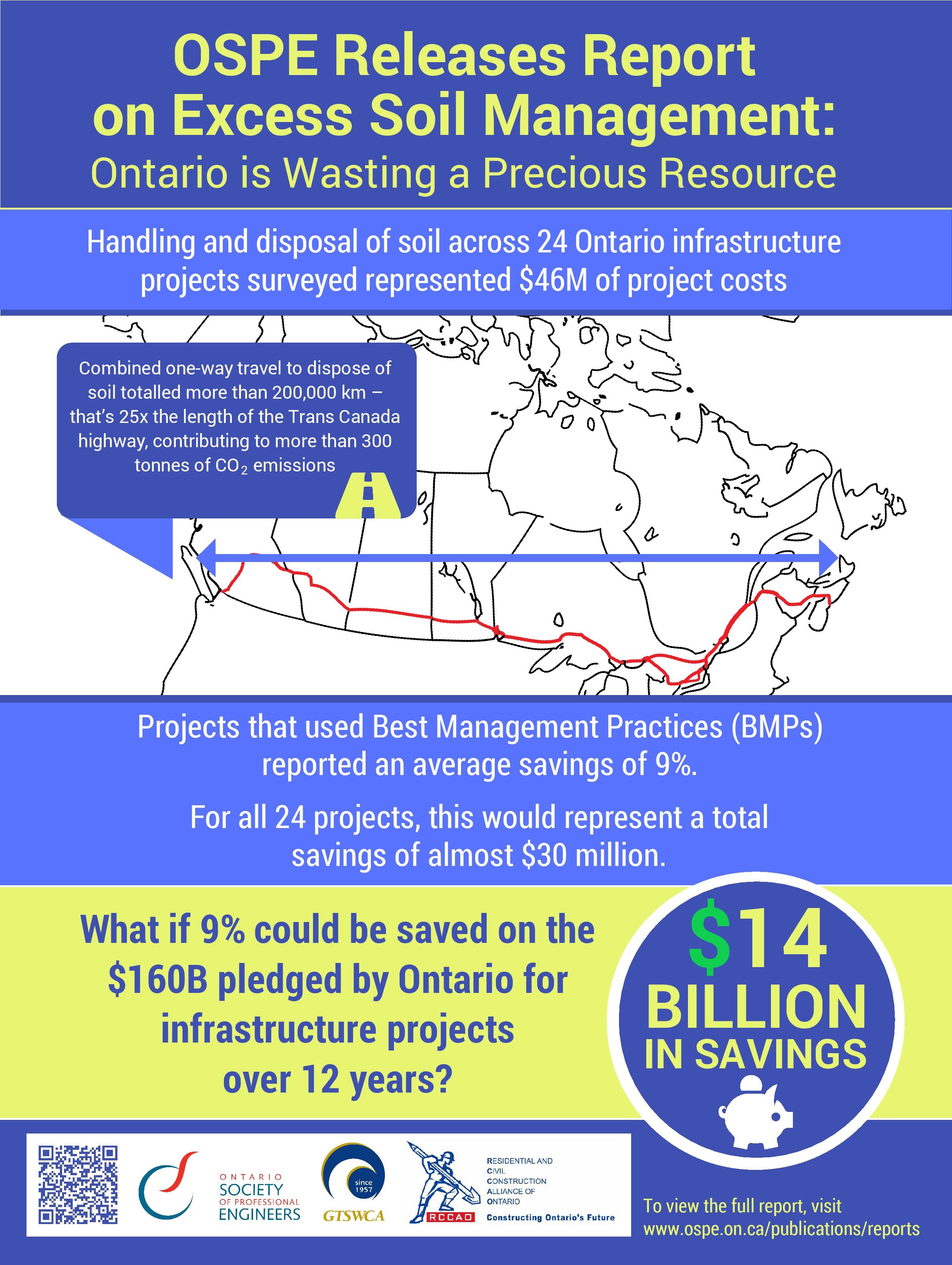 The goal of the report is to demonstrate to industry and governments, especially at the municipal level, that treating soil as a resource and re-using or recycling it makes environmental and economic sense, creating significant savings that could be better redirected towards other government and social priorities. The report consequently encourages the widespread adoption of the Government of Ontario's 2014 document, Management of Excess Soil – A Guide for Best Management Practices (the Guide).
The report shares key recommendations for the improved management of excess soil in Ontario infrastructure projects, including the creation of a model bylaw to promote the use of the Guide. The report also recommends that industry collect data to highlight opportunities for both government and businesses to prioritize the handling of excess soil. According to the report findings, responsibility and onus for excess soil management should be placed on the Qualified Person (QP) and QP regulators must be involved in ensuring that QPs have the necessary qualifications to do so.
As environmental stewards, engineers, designers, developers and builders of Ontario's infrastructure, are all well suited to advance best management practices (BMPs) that promote the environmental, ecological and societal benefits of conserving natural resources such as soil.
 Access the full report here.