Ontario's 2018 Budget contains $20.3 billion in new investments and updates that stand to impact Ontario's professional engineers and those on the pathway to licensure.
On Wednesday, March 28, OSPE was honoured to attend an invitation-only briefing with government officials in advance of the presentation of the $145 billion Budget by the Honourable Charles Sousa, Ontario's Minister of Finance.
Ontario's 2018 Budget marks important advocacy wins for the engineering profession—supporting the proliferation of engineering jobs and the success of the next generation of professional engineers in our province.
Ontario's 2018 Budget not only demonstrates that OSPE's advocacy yields results, it also highlights the role individual OSPE members, including our dedicated volunteers and committee members, have played to affect positive change for all Ontarians.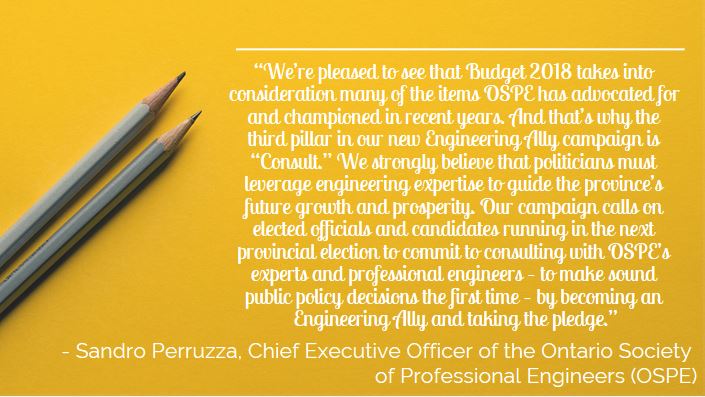 —–
Budget 2018 Allocates Funds to Kickstart Engineering Careers in Ontario
—
OSPE's 2018 pre-budget submission to the Minister of Finance called on the province to increase its investment in the Career Kick-Start Strategy to help engineering students and recent graduates successfully transition to engineering jobs.
OSPE is pleased that Budget 2018 delivered key commitments to address this issue:
Through the province's Good Jobs and Growth Plan, Ontario's 2018 Budget commits to investing $411 million over three years to strengthen the partnership between post-secondary institutions and employers, providing more engineering students with intensive, experiential learning opportunities.
$30 million to enhance the relationship between post-secondary institutions and key industries, providing engineering job seekers with industry training to successfully on-board into engineering positions.
$12 million to extend the Career Ready Fund to 2020-2021, supporting 28,000 more experiential learning opportunities for engineering students and employers.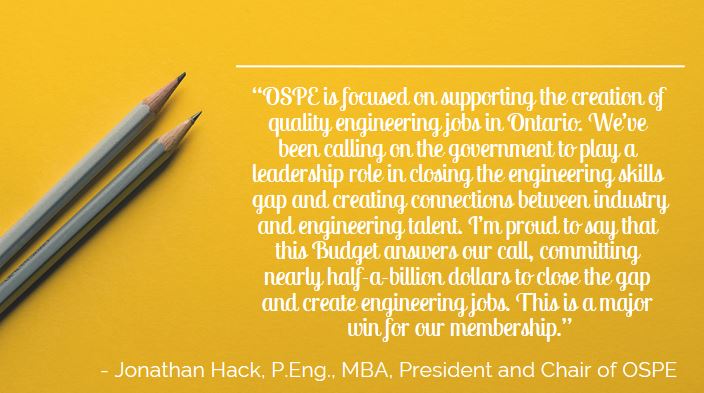 —
Budget 2018 Takes Action to Close the Engineering Skills Gap
—-
OSPE has long advocated for the Government of Ontario to take action to help close the engineering skills gap reported by industry and employers hiring recent engineering graduates—and the Budget takes concrete action to address OSPE's concerns. Many employers are hesitant to invest in training or up-skilling their workers due to cost-savings measures, and reflective of recommendations included in OSPE's pre-budget submission and submission to the Premier's Highly Skilled Workforce, the government is taking steps to lessen the investment 'risk' required to connect engineering employers and new engineering talent.
Budget 2018 announces the establishment of the Ontario Training Bank – a $63 million investment over three years that will provide job seekers with access to quality training to secure in-demand jobs. These funds will help employers invest in their workers' skill sets to better train and recruit new talent, while upgrading the skills of existing employees – at no cost.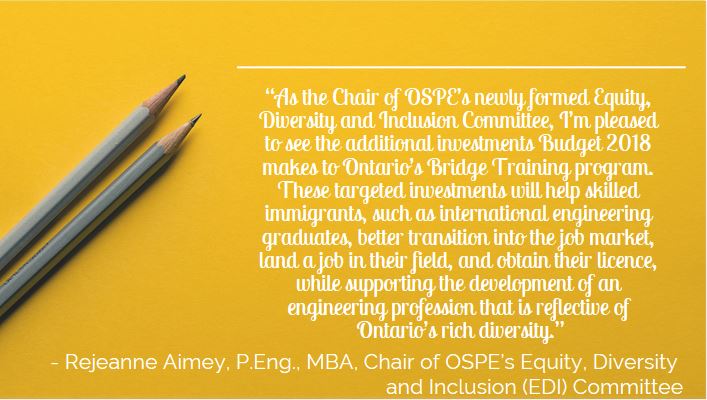 —
Beyond engineering job creation, Ontario's 2018 Budget impacted several other areas of interest:
Pathways to P.Eng. licensure for new Canadians

Ontario Bridge Training Programs

Support for women in engineering

Improved access to affordable childcare
Women in Engineering on Public & Private Boards

Transparency in compensation
Improved academic guidance and STEM enrollment initiatives
Historic investments in infrastructure

Transportation Infrastructure & High-Speed Rail
Public Transit Infrastructure
Fare Integration
Digital Infrastructure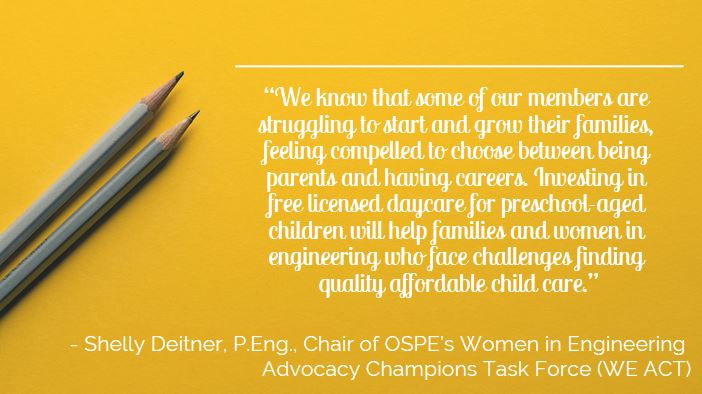 —