Since the pandemic started, like many other organizations, we've had to shift our in-person events to the virtual space. One of the many OSPE events that we had to do this for was our Engineering Employment Events (E3s) which gave qualified engineers the chance to meet face-to-face with hiring employers. As a result, we launched our first Virtual Engineering Employment Event (VE3) this summer and saw great results.
The VE3 consists of a prospect answering 3 questions related to the job posting that their applying to through self-recorded video, using an online video recording platform. The employers then review the videos and select which prospects to meet virtually on the day of the event. Our next VE3 will be taking place in late October, with selected candidates meeting employers on October 27th.
With the next VE3 coming up shortly, we thought now would be a good time to give you some tips on how to prepare for virtual interviews:
Dress for success: Look your best! This is a professional interview after all. Men should wear a tie and sports jacket or suit and women should wear a business suit or business attire.
Prepare: Do a run through of your answer before starting the recording. The questions are available for your review with the job description on OSPE's VE3 page. Do not read an answer or memorize an answer it does not come off as natural, instead use the checklist feature located at the left of the video frame to add some talking points. For the meeting portion, learn about your employer and attend OSPE's job search workshop Acing the Virtual and In-person Interview for more detailed tips.
Lighting: Make sure your lighting source is coming from in front of you. Do not stand with your back facing a window.
Eye contact: Make eye contact with the camera not your screen, you can break eye contact from time to time.
Warm Introduction: Make sure to introduce yourself when answering your first introduction question and smile, it is your opportunity to connect.
Affect: Tone of voice, says more than the words you use. Enthusiasm, emotions, and passion go a long way in making a good first impression.
Environment: Control your environment, outside noise is distracting and unwelcomed.
Posture Matters: Relax, shoulders down and sit up straight or stand. Lean in rather than lean away from your camera. Avoid swiveling in a chair.
Body Language: You can use hand gestures but super fast movements may look strange depending on the quality of your video.
Beware of Perfectionism: When I first started doing video and live streaming, I personally found it hard to watch my own videos. I became overly critical of everything I did on video, from the way I sounded, movements, to facial expressions, which then affected future performances because I was stuck in my head. The way I got over it was by watching my videos repeatedly (over 20 times) to get used to my video self. If you are somewhat like me, I would recommend you record a video answering the questions, repeatedly watch your video self and get used to and accept video you.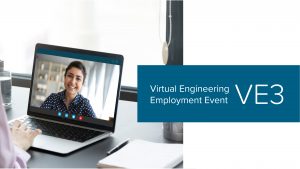 This blog was contributed by Paul Hill from Transition to Hired, who has partnered with OSPE to bring members our Job Search Workshops and the VE3.