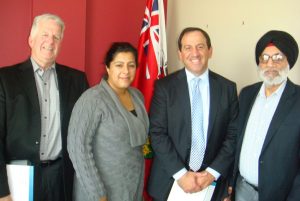 Introducing David
I am currently retired, but spent 10 years as a manufacturing consultant and many years as general manager of a large steel fabrication and manufacturing company in the Brampton-Springdale riding. I have been a Professional Engineer since 1988 and a member of OSPE since 2002.
What are the major issues in your community?
I have lived and worked in Brampton-Springdale for 30 years. The top issues for the community are related to the population growth that Brampton and Mississauga has undergone, specifically:
Infrastructure, such as highways, roads, bridges, Light Rail Transit, public transportation, and so on, that lags behind development and population growth; and
Declining local manufacturing jobs despite a large, well-educated workforce, resulting in residents commuting to other areas for work and, consequently, stressing an already taxed transportation system.
What are some key characteristics about your community?
Brampton-Springdale is located at a nexus of major highways in the GTA (401, 409, 407, 410, and 403). In addition, Pearson International Airport is close by, making the area a major warehouse, distribution, and transportation hub.
In just 30 years, the region has grown from a population of under 600,000 to over 1.4 million. This growth has given the region a relatively young, well-educated workforce. However, due to a decline in the availability of local manufacturing jobs, a major commuting culture has emerged. Investment in the development of infrastructure has lagged, resulting in traffic congestion which hinders the region's productivity.
What have you discussed with your MPP as a PAN representative?
My engineering background, combined with my knowledge of local manufacturing and business, added credibility to my presentation to my MPP. Infrastructure projects are the solution to many of the region's problems. Moreover, engineers are vital to the successful planning and implementation of these projects. If investors see significant improvements to infrastructure, they are more likely to invest in Brampton as a manufacturing venue, which, in turn, creates jobs for engineers who are needed to plan, implement, and maintain these projects.
I was pleased that my MPP agreed with the analysis and mentioned several initiatives underway to help alleviate the problems facing the riding. She also was quite thankful for OSPE's willingness to provide engineering input should she require it for future decision-making.