The Ontario Professional Engineers Awards (OPEA) Gala is the province's most prestigious and anticipated engineering event of the year. Proudly co-presented by the Ontario Society of Professional Engineers (OSPE) and Professional Engineers Ontario (PEO), this annual gala brings industry innovators, business leaders and policy makers together to celebrate and be inspired by engineering excellence and achievement.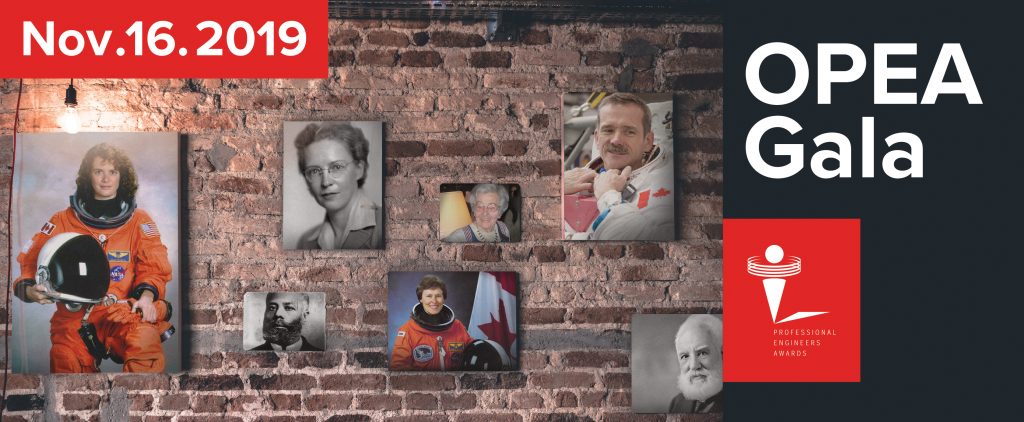 This year's OPEA Gala will celebrate the Canadian Engineering Trailblazers. Today, engineers continue to lead the advancement of every facet of society, creating innovations that are launching Canada into its exciting future. This is only possible because of the trailblazers that preceded them. Individuals like Ursula Franklin, Elsie MacGill, Elijah McCoy, Alexander Graham Bell, Roberta Bondar, Chris Hadfield and the Right Honourable Julie Payette paved the way for today's engineers. This year, the OPEAs will recognize Ontario's current trailblazers that are shaping the future of the engineering profession and society as a whole.
The 2019 Ontario Professional Engineers Awards will recognize:
BRIAN J. BONNICK, BESC, P.ENG.
​EXECUTIVE VICE PRESIDENT, TECHNOLOGY & CHIEF TECHNOLOGY OFFICER, IMAX CORP.
Engineering Medal – Engineering Excellence
JOHN MCPHEE, PHD, P.ENG., FEIC, FCAE, FASME, FCSME
PROFESSOR, UNIVERSITY OF WATERLOO; CANADA RESEARCH CHAIR IN SYSTEM DYNAMICS
Engineering Medal – Management
IRENE STERIAN, P.ENG.
DIRECTOR, TECHNOLOGY & INNOVATION, CELESTICA INC.
Engineering Medal – Research and Development
MILICA RADISIC, PHD, P.ENG., FCAE, FRSC, FTERM, FAIMBE
PROFESSOR, UNIVERSITY OF TORONTO; CANADA RESEARCH CHAIR (TIER 2) IN FUNCTIONAL CARDIOVASCULAR TISSUE ENGINEERING
ZHENG HONG (GEORGE) ZHU, PHD, P.ENG., FEIC, FCSME, FASME, AFAIAA, SMIEEE
​PROFESSOR AND CHAIR, DEPARTMENT OF MECHANICAL ENGINEERING, YORK UNIVERSITY
Engineering Medal – Entrepreneurship
MILOS POPOVIC, PHD, FAIMBE, FCAE, P.ENG.
​PROFESSOR, UNIVERSITY OF TORONTO; DIRECTOR, KITE RESEARCH INSTITUTE, UNIVERSITY HEALTH NETWORK
Engineering Medal – Young Engineer
SHOSHANNA SAXE, PHD, P.ENG.
​ASSISTANT PROFESSOR, UNIVERSITY OF TORONTO
JAIME A. LIBAQUE-ESAINE, MBA, P.ENG.
RONALD SIDON, MBA, P.ENG.
Award for Engineering Project or Achievement
BOMBARDIER GLOBAL 7500 BUSINESS JET
SCOTT GOOBIE, P.ENG.
ENGINEERING TECHNICAL FELLOW – AIRCRAFT INTEGRATION, BOMBARDIER BUSINESS AIRCRAFT
Stay tuned to the Blog in the coming weeks for more details on each of this year's 2019 OPEA Winners
2019 OPEA Gala Event Info: