On March 8, OSPE, in partnership with the Greater Toronto Sewer and Watermain Construction Association (GTSWCA) and the Residential and Civil Construction Alliance of Ontario (RCCAO), released preliminary findings on its forthcoming study on the management of excess soils. OSPE's Lee Weissling, Manager, Policy and Government Relations, spent the afternoon in discussions with senior policy advisors from the Ministries of Municipal Affairs and Housing; Environment and Climate Change; Natural Resources and Forestry; and Agriculture, Food and Rural Affairs to discuss the study. These meetings were followed by OSPE's 8th Queen's Park reception, attended by over 100 distinguished guests, including 38 MPPs – the highest number in attendance to date.
Initial findings from this joint study recommend that construction companies in Ontario reduce the transportation of soils that can be re-used or recycled, noting that the handling and disposal of excess soils can represent 13% of total project costs for companies and require more than 300,000 km in travel distance. The study calls for a model by-law that would promote the use of best practices, which could reduce Greenhouse Gas (GHG) emissions and save upwards of $1 billion for government infrastructure projects.
At the reception, OSPE showcased the study's initial findings alongside three other recent documents: OSPE's 2016 Pre-Budget Submission; Ontario's Energy Dilemma, a research report on GHG emissions; and Engineering a Cleaner Economy, an examination of Ontario's carbon pricing program and the role of innovation. Altogether, the dining room was filled with insightful discussion regarding the vital role engineers play in the development of sustainable communities.
Opening greetings on behalf of their respective organizations were provided by OSPE President and Chair Karen Chan, P.Eng., and PEO Registrar Gerard McDonald, P.Eng. The room was then graced with welcome remarks on behalf of Ontario's three main political parties, delivered by: Ernie Hardeman, Progressive Conservative Critic for Municipal Affairs and Housing; Percy Hatfield, New Democratic Critic for Municipal Affairs and Housing; and Hon. Ted McMeekin, Liberal Minister of Municipal Affairs and Housing. Each Member expressed his sincere appreciation for the role engineers play in advising government and for executing Ontario's policy process, acting as a trusted resource for solutions-based insight.
Following their remarks, OSPE Director, Steve Rose, P.Eng., provided an overview of the excess soils study. The audience listened intently, posing many questions about the study's implications following the speeches.
OSPE's CEO Sandro Perruzza also delivered his keynote address, detailing his vision for the future of OSPE and its important relationship with government. Perruzza reiterated to the room full of Queen's Park decision makers, the need to continue to value and more deeply rely on the expertise, imagination and intellect of Ontario's Professional Engineers. The power of this message was manifest in the countless MPP testimonials, conversations and comments in support of OSPE's direction and in the MPPs' expressed appreciation for the informative and thoughtful event. OSPE observed a significant uptake in its message as MPPs requested reports and documents outlining policy recommendations at the conclusion of the evening, with many remarking that they intend to use OSPE's research as a resource to shape future policy decisions.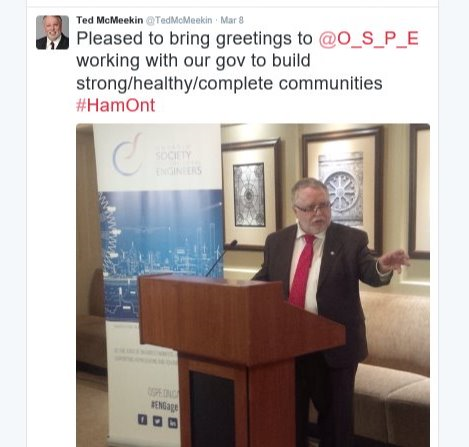 OSPE wishes to thank all MPPs, guests, board members, volunteers and staff in attendance for making our 8th annual Queen's Park Reception a tremendous success!
Special thanks for the positive conversations and statements of support offered by the following MPPs:
Liberal Members Laura Albanese, Yvan Baker, Hon. Jim Bradley, Hon. Michael Coteau, Grant Crack, Bob Delaney, John Fraser, Hon. Speaker Dave Levac, Harinder Malhi, Cristina Martins, Hon. Ted McMeekin, Indira Naidoo-Harris, Lou Rinaldi, Hon. Mario Sergio and Soo Wong
Progressive Conservative Members Bob Bailey, Toby Barrett, Steve Clark, Vic Fedeli, Ernie Hardeman, Randy Hillier, Tim Hudak, Sylvia Jones, Jim McDonell, Norm Miller, Julia Munro, Rick Nicholls, Laurie Scott, Lisa Thompson and Bill Walker
New Democratic Members Gilles Bisson, Cindy Forster, Wayne Gates, France Gelinas, Percy Hatfield, Mike Mantha, Paul Miller and Taras Natyshak